Description
Aerial hoop lyra with 2 mounts for gymnastics and acrobatics
An air hoop with two fasteners is considered more reliable and is often used in pairs.
IPSF International Sports Federation – allows hoops with only two mounts.
Our hoops meet all the necessary requirements.
We bend the pipe on special rollers for round pipes, so the pipe remains round and not flattened. This is important for tricks such as hanging in your toes or heels.
The tubercle that is on the round tube serves as a hook for the hollow in the heels or socks. On a flattened pipe, there is no such tubercle and this complicates the performance of these tricks.
The air hoop is made of thick-walled steel pipe. Pipe circumference diameter 27 mm. This diameter is very convenient for grabbing a hand and at the same time thick enough not to put so much pressure on the artist's body. This reduces discomfort when learning this beautiful genre.
Aerial hoop welding joint:
At the junction, we insert a sleeve from a hollow thick-walled pipe, fasten it with additional electric rivets and scald it along the entire radius. Thus, the seam becomes more reliable than a solid pipe.
Air hoop mount:
Fasteners are made of steel sheet 8 mm thick. This increases the life of the air hoop, as thinner fasteners can deform over time.
Laser cutting allows you to make fasteners of the same shape and size.
We offer a choice of two types of mounts: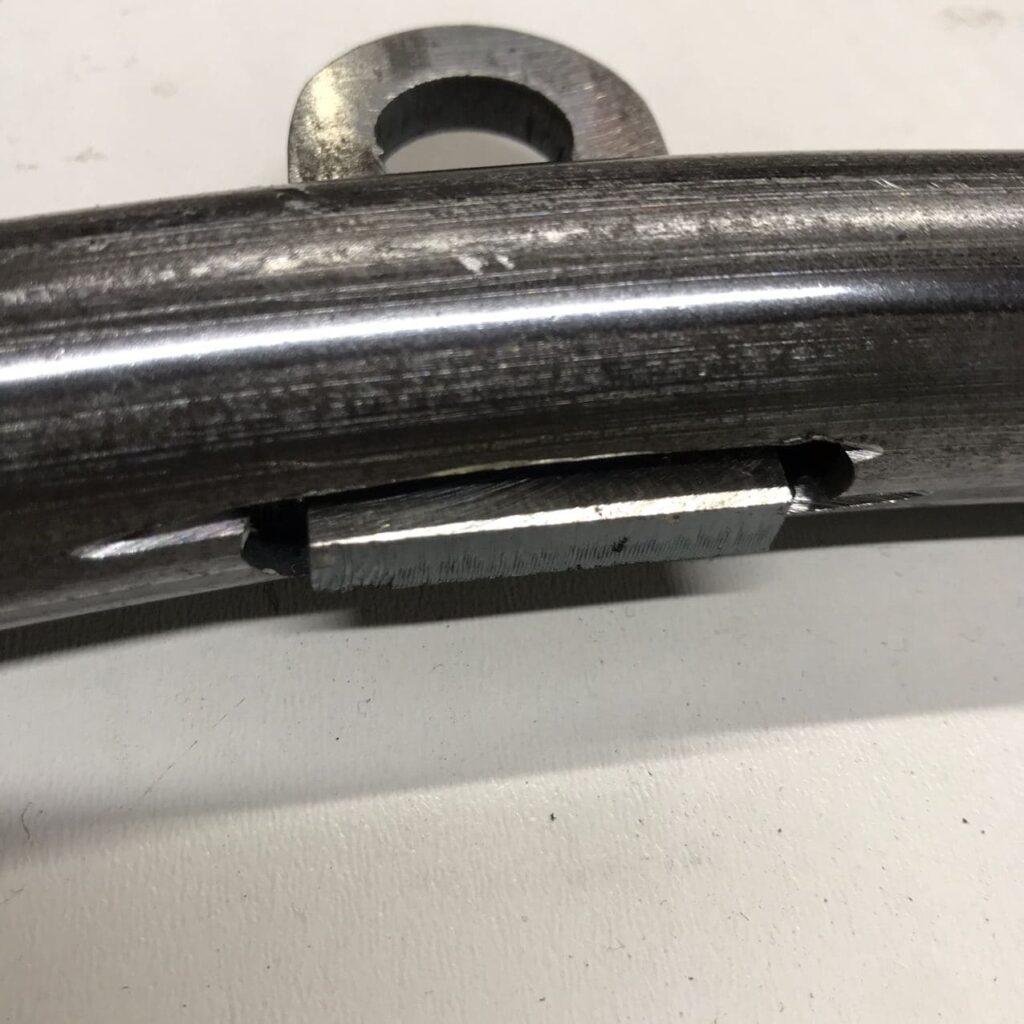 Face – the advantage of this mount is that the surface on the inside of the ring remains smooth and does not interfere with some tricks. This mount can also be called a mortise mount, since a rectangular hole is cut in the pipe and it passes through the pipe and then welded in two places, the upper part of the pipe and the lower one.

Profile – this mount has the shape of a figure eight, where one hole is large just for the pipe to pass and the second is smaller for attaching the carbine. This fastener is put on the pipe and welded along the radius on both sides.
Both fasteners are quite reliable and can withstand the load more than the pipe itself can withstand. It will bend and burst faster than the mount deforms.
In order to fully work and train on an air hoop, a special suspension is needed, which should consist of:
In our online store you can assemble a rigging set  yourself or order ready-made sets for rigging an aerial hoop.
Characteristics:
Material: black steel.
Number of fasteners: 2 pcs.
Standard distance between fasteners: 45-55 cm.
Pipe diameter \ wall thickness: Ф 27 \ 2.8 mm.
Powder coating.
Standard color: black.
Passport with our stamp.
Weight: 4.5-5.5 kg.
Ring inner diameter: 85 cm / 90 cm / 95 cm / 100 cm / 105 cm / 110 cm.
Producer – CircusForYou
Country: Ukraine